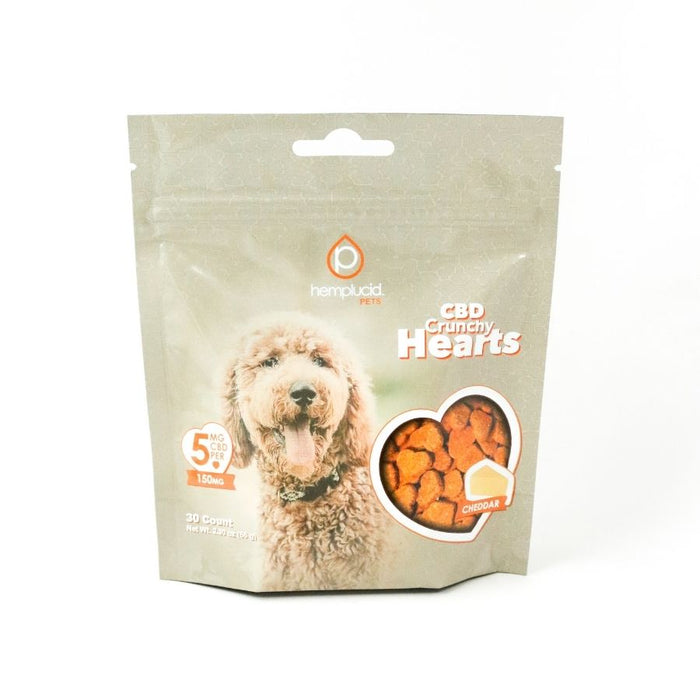 Natural Balance for Dogs of All Ages
Like us, our dogs have an Endocannabinoid System that responds to natural hemp compounds. This system supports and promotes balance in physiological processes throughout the body. Introducing hemp into your dog's wellness routine may help relieve stress, instill calm, and improve overall well-being.
Our Commitment to Quality Ingredients
Hemplucid Pets Crunchy Hearts dog treats are made with organic full-spectrum extracts derived from the whole hemp plant using a clean supercritical CO2 extraction method.
Everything from our fields to the finished product has been tested to maintain the highest quality and purity standards. Third-party test results (called Certificates of Analysis) are available to view online for every product batch.
Suggested Use
Dogs come in all shapes and sizes and will require different amounts of hemp. Here are a few things to keep in mind as you start their hemp journey.
Start by offering ½ to one treat and gauge your pet's reaction.
Consistent use is key for optimal results.
Store at room temperature away from direct sunlight.
Basic Serving Chart
LARGE 75+ lb
2 to 3 hearts
MEDIUM 15-75 lb
1 to 2 hearts
SMALL 5-15 lb
1/2 to 1 heart
FAQs
+

Are these vegan/gluten free?

They are gluten free and grain-free, but they're not vegan. There is dried bacon in the Bacon flavored treats, and dried cheese and chicken fat in the Cheddar Cheese flavored treats.
+

What are the benefits of giving these to my pet?

CBD has been shown to affect pets in similar ways to how it affects humans. When ingested, CBD can help promote relaxation and overall well being.
+

How much should I give my fur baby?

Every dog is different, but start with ½ treat and go from there. Just like humans, pets should start with a small amount of CBD and work their way up to find what works best.
+

How often can I give these to my pet?

Like we said, each dog is different. Refer to the "Basic Serving Chart" for guidance on how many treats your pet may be able to handle by weight. Small dogs may only be suited for ½ a treat per day, while bigger dogs may be able to handle up to 3 treats. It all depends on your pet's size and unique needs.
+

Can I give these to my cat, horse, rat, etc. or were these made specifically for dogs?

While these high-quality treats were made with dogs of all ages in mind, they may work for other pets as well. According to The Anti-Cruelty Society "CBD is non psychoactive and appears safe to be used on pets."

The best practice for feeding these treats to your pet is to check with a veterinarian that is familiar with cannabis first. Since research can vary by animal and breed, a vet can help you determine proper dosing of CBD and if these treats are appropriate for certain species.
+ How will I know it's working?

Just like humans, CBD will affect each pet differently. Gauge their reaction after offering them ½ a treat at first. This will allow you to see what your pet's needs are and then tailor the amount they are given for best results.
+

What is the difference between the oils and treats?

CBD can be delivered in two popular forms, oils and edibles (like these CBD-infused treats). There really isn't a "right" way to use CBD for yourself or your pet. There's just the way that works best for you!

Oils are popular because they can be delivered sublingually (under the tongue) and absorbed straight into the bloodstream. This allows them to bypass the digestive system and increases potential for bioavailability. However, we know some furry friends wouldn't find that appealing.

A treat (edible) is an easier option for many pet owners to help their four-legged friends have a "paws'-itive experience with CBD. It's great tasting, but hides the CBD oil or extract by pairing it with other flavors and components. It may not be as bioavailable (easy for the body to use), but it is a lot easier to administer encased in a treat!
+

Can I use the oil with the treats?

Yes, but it depends on your pet! Some pets can only handle ½ a treat until their bodies get used to CBD. Keep in mind that our treats contain CBD, so it's safest to try oils and treats separately first before incorporating both into your pet's dietary routine. In the case of both oils and treats, start with a small amount and then work your way up to what is best for your pet.
+

My pet is on medications, is CBD safe to use?

As we are not medical professionals, we suggest talking to your pet's vet to make sure it's safe. Just like doctors can do for humans, vets can check to make sure that there isn't a big risk for interaction between your pet's medication and CBD oil or treats.